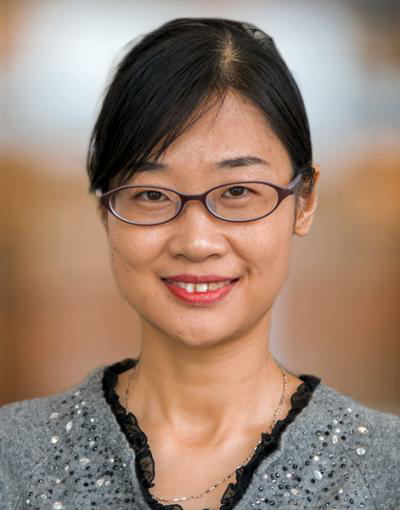 熊晶,博士,中国药科大学药学院药理系研究员,博士生导师,江苏省药理学会青年工作委员会委员。熊晶研究员于2011年获药理学博士学位,中国药科大学与美国梅奥医学中心(Mayo Clinic)联合培养;2011年8月至2020年3月于南京医科大学药理学国家重点学科先后任讲师、副教授;2017年至2019年于美国密歇根大学生命科学研究所(Life Science Institute, University of Michigan)任访问学者、博士后;2020年3月至今为中国药科大学药学院药理系研究员。主持国家自然科学基金及江苏省自然科学基金项目各一项,作为项目组主要成员参与国家自然科学基金共计6项;以第一作者或通讯作者在Hepatology、Br J Pharmacol、Pharmacol Res、Toxicology等国际知名期刊发表研究性论文;Br J Clin Pharmacol、Neurochem Res、Clin Exp Pharmacol P、Cell Biochem Biophys、J Pharm Pharmacol等SCI期刊审稿专家。

研究方向:肝脏药理学
1. 基于RNA-seq 和Single cell sequence 等大数据分析,引领肝损伤与肝再生、非酒精性脂肪性肝炎、肝癌等急慢性肝病的分子机制研究。
2. 通过阐明药物代谢酶和药物转运体的转录调控机制,揭示引起药物相互作用、逆转药物多药耐药的关键分子学基础及新药靶标。
3. 在充分明确分子靶标生物学功能的基础上,针对生物大分子的结构特征,进行靶向性药物设计,推动肝脏疾病防治药物的研发。
联系方式:
crystalcpu@gmail.com, 玄武校区新大楼1405室。
近期发表的代表性论⽂(*为通讯作者):
1. Jing Xiong*, Tongyu Liu, Lin Mi, Henry Kuang, Xuelian Xiong, Zhimin Chen, Siming Li, Jiandie Lin*. hnRNPU/TrkB defines a chromatin accessibility checkpoint for liver injury and NASH pathogenesis. Hepatology. 2020; 71: 1228-1246
2. Wenjing Luo, Yu Xin, Xia Zhao, Feng Zhang, Changqing Liu, Hongwei Fan, Tao Xi*, Jing Xiong*. Suppression of carboxylesterases by imatinib mediated by the downregulation of pregnane X receptor. Br J Pharmacol. 2017; 174: 700-17.
3. Xuan Yang, Xiao Zhang, Yamin Liu, Tao Xi*, Jing Xiong*. Insulin transcriptionally down-regulates carboxylesterases through pregnane X receptor in an Akt-dependent manner. Toxicology. 2019; 422: 60-68
4. Shujuan Pan, Yunlong Tan, Shangwu Yao, Yu Xin, Xuan Yang, Jing Liu, Jing Xiong*. Fluoxetine induces lipid metabolism abnormalities by acting on the liver in patients and mice with depression. Acta Pharmacol Sin. 2018; 39: 1463-1472.
5. Enfang Shan, Zhu Zhu, Shuangcheng He, Dongbao Chu, Dinghao Ge, Yunran Zhan, Wei Liu, Jian Yang*, Jing Xiong*. Involvement of pregnane X receptor in the suppression of carboxylesterases by metformin in vivo and in vitro, mediated by the activation of AMPK and JNK signaling pathway. Eur J Pharm Sci. 2017; 102: 14-23
6. Jing Xiong, Huan Yang, Wenjing Luo, Enfang Shan, Jie Liu, Feng Zhang, Tao Xi*, Jian Yang*. The anti-metastatic effect of 8-MOP on hepatocellular carcinoma is potentiated by the down-regulation of bHLH transcription factor DEC1. Pharmacol Res. 2016; 105: 121-133.
7. Huan Yang#, Jing Xiong#, Wenjing Luo, Jian Yang*, Tao Xi*. 8-Methoxypsoralen induces intrinsic apoptosis in HepG2 cells: Involvement of reactive oxygen species generation and ERK1/2 pathway inhibition. Cell Physiol Biochem. 2015; 37(1): 361-74.
8. Yamin Liu, Wenjing Luo, Huan Yang, Wei Fang, Tao Xi, Yunman Li*, Jing Xiong*. Stimulation of Nitric Oxide Production contributes to the Antiplatelet and Antithrombotic Effect of New Peptide pENW (pGlu-Asn-Trp).Thromb res. 2015; 136(2): 319-327
9. Jing Xiong, Huan Yang, Lili Wu, Wei Shang, Enfang Shan, Wei Liu, Gang Hu, Tao Xi, Jian Yang*. Fluoxetine suppresses AMP-activated protein kinase signaling pathway to promote hepatic lipid accumulation in primary mousehepatocytes. Int J Biochem Cell Bio. 2014; 54: 236-244
10. Jing Xiong, Wei Shang, Lili Wu, Ruini Chen, Wei Liu, Rui Ning, Gang Hu, Jian Yang*. Glucose dominates the regulation of carboxylesterases induced by lipopolysaccharide or interleukin-6 in primary mouse hepatocytes. Life sci. 2014; 112: 41-48