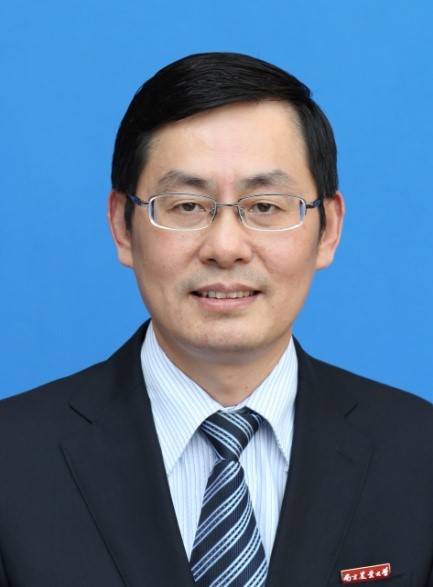 戴建君

性别:男
毕业院校:南京农业大学
最高学位:博士
办公地址:中国药科大学行政楼631
南京农业大学逸夫楼5003
办公电话:025-86185360
电子邮箱:jjdai@cpu.edu.cn
个人简介:
中共党员,教授,博士生导师。现任中国药科大学副书记、纪委书记。兼任全国兽医专业学位研究生教育指导委员会副主任委员、中国进出境生物安全研究会副会长。
主要工作经历:1986年9月至1991年8月,南京农业大学兽医系学习;1991年8月至1994年8月南京农业大学动物医学院教师;1996年被聘为讲师;2001年8月至2005年6月南京农业大学团委书记;2002年被聘为副教授;2003年11至2005年6月南京农业大学学生工作处处长、学生工作部部长(兼);2005年6月至2009年10月南京农业大学动物医学院党委书记;2008年10月起,南京农业大学党委办公室主任、统战部部长、机关党委书记;2010年被聘为教授;2011年7月至2018年11月,南京农业大学党委常委、副校长;2018年12月起任中国药科大学党委副书记、纪委书记。
研究方向:病原微生物感染与免疫,主要从事人畜共患病病原菌感染和传播机制研究。
目前承担主要科研项目:
1.表观修饰与病原细菌适应性进化,2015.01至2019.12, 国家重点基础研究发展计划(973计划),子课题负责人,经费120万。
2.家禽重要细菌病快速检测技术研究,2016.07至2020.12,国家重点研发计划,课题负责人,经费540万。
3. sRNA调控禽致病性大肠杆菌在巨噬细胞内存活的分子机制,2017至2020,国家自然科学基金,项目负责人。
4. 禽致病性大肠杆菌外膜囊泡(OMVs)关键效应蛋白的鉴定及其致巨噬细胞损伤的机制研究,2019至2022,国家自然科学基金,项目负责人。
近年代表性论著:
1. Xiangkai Zhuge, Yiming Ji, Fang Tang, Yu Sun, Min Jiang, Wenhao Hu, Yibang Wu, Feng Xue, Jianluan Ren, Weiyun Zhu, Jianjun Dai*Population Structure and Antimicrobial Resistance Traits of Avian-origin mcr-1-positive Escherichia coli in Eastern China, 2015 to 2017. Transboundary and emerging diseases. doi.org/10.1111/tbed.13222.
2. Fang Tang, Juanfang Wang, Dezhi Li, Song Gao, Jianluan Ren, Liqing Ma, Fei Liu, Xiangkai Zhuge, Genqiang Yan, Yan Lu and Jianjun Dai*Comparative genomic analysis of 127 Escherichia coli strains isolated from domestic animals with diarrhea in China. BMC genomics 2019 20:212.
3. Xiangkai Zhuge, Yu Sun, Min Jiang, Juanfang Wang, Fang Tang, Feng Xue, Jianluan Ren, Weiyun Zhu and Jianjun Dai* Acetate metabolic requirement of avian pathogenic Escherichia coli promotes its intracellular proliferation within macrophage. Veterinary research 2019 50:31.
4. Xiangkai Zhuge, Yu Sun, Feng Xue, Fang Tang, Jianluan Ren, Dezhi Li, Juanfang Wang, Min Jiang and Jianjun Dai*A Novel PhoP/PhoQ Regulation Pathway Modulates the Survival of Extraintestinal Pathogenic Escherichia coli in Macrophages. Frontiers in Immunology 9:788. doi: 10.3389/fimmu.2018.00788.
5. Dezhi Li, Fang Tang, Feng Xue, Jianluan Ren, Yun Liu, Dehong Yang, Jianjun Dai*.Prophage phiv142-3 enhances the colonization and resistance to environmental stresses of avian pathogenic Escherichia coli. Veterinary Microbiol. 2018 70–77.
6. Xiangkai Zhuge, Fang Tang, Hongfei Zhu, Xiang Mao, Shaohui Wang, Zongfu Wu, Chengping Lu, Jianjun Dai*and Hongjie Fan. AutA and AutR, Two Novel Global Transcriptional Regulators, Facilitate Avian Pathogenic Escherichia coli Infection. Sci. Rep. 6, 25085; doi: 10.1038/srep25085.
7. Xiang-kai Zhu-Ge, Zi-hao Pan, Fang Tang, Xiang Mao, Lin Hu, Shao-hui Wang, Bin Xu, Cheng-ping Lu, Hong-jie Fan, Jian-jun Dai*. The effects of upaB deletion and the double/triple deletion of upaB, aatA, and aatB genes on pathogenicity of avian pathogenic Escherichia coli. Appl Microbiol Biotechnol. DOI 10.1007/s00253-015-6925-2.
8. Fang Tang, Dezhi Li, Haojin Wang, Zhe Ma, Chengping Lu, Jianjun Dai*. Prophage Lysin Ply30 Protects Mice from Streptococcus suis and Streptococcus equi subsp. zooepidemicus Infections.Appl Environ Microbiol. 2015,81:7377–7384.
9. Xiangkai ZhuGe, Shaohui Wang, Hongjie Fan, Zihao Pan, Jianluan Ren, Li Yi, Qingmei Meng, Xuqiu Yang, Chengping Lu, and Jianjun Dai*. Characterization and Functional Analysis of AatB, a Novel Autotransporter Adhesin and Virulence Factor of Avian Pathogenic Escherichia coli. Infection and Immunity. July 2013 81:7 2437-2447.
10. J Dai, S Wang, D Guerlebeck, et al. Suppressionsubtractivehybridization identifies an autotransporteradhesion gene ofE. coliIMT5155 specifically associated with avian pathogenic Escherichia coli (APEC)BMC Microbiol. 2010,10:236.