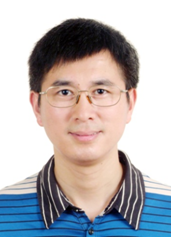 基本信息:
张建军,1972年生,药剂学博士,教授,博士生导师,国家药品监督管理局药品审评专家,获药明康德生命化学研究奖、中国药学会青年药剂学奖、"青蓝工程"优秀青年骨干教师、江苏省青蓝工程中青年学术带头人、美国国家特品奖教金等多项荣誉。
教育经历:
| | | | |
| --- | --- | --- | --- |
| 2001.09~2005.06 | 中国药科大学 | 药剂学 | 博士 |
| 1996.09~2000.06 | 中国药科大学 | 药剂学 | 硕士 |
| 1990.09~1994.06 | 中国药科大学 | 药物制剂 | 本科 |
工作经历:
1994.07~至今

中国药科大学

药学院

教授

2013.06~2014.06

美国明尼苏达大学

药学院

高级访问学者

2005.10~2006.04

香港浸会大学

中药学院

高级访问学者

2000.12~2002.03

国家食品药品监督管理局药品审评中心
主要研究领域:
(1)药物制剂新剂型与新技术
(2)物理药剂学
(3)药物制剂研发及一致性评价
(4)新型药用辅料
专注于物理药剂学、药物晶体工程、新型药用辅料、及药物制剂新剂型与新技术等领域的基础研究,主持国家科技重大专项、国家自然科学基金、江苏省自然科学基金、中国药科大学"双一流"建设项目等项目资助数十项;以第一或通讯作者发表SCI论文50余篇,主编制剂晶体学专著一部。
制剂产业化成果丰硕,主持校企合作课题成功研发制剂品种50余个,获得临床批件及生产批文20余项,其中包括6个1.1类新药的成功研发,获授权专利20项。此外,主持仿制药一致性评价项目已有10余个品种一次性通过BE。
联系方式:
10篇代表性论文:
1. Heng W, Wei Y, Zhou S, Gao Y, Zhang J*, Qian S. Effects of temperature and ionic strength of dissolution medium on the gelation of amorphous lurasidone hydrochloride. Pharm Res, 2019, 36: 72.
2. Wei Y, Zhang L, Wang N, Shen P, Dou H, Ma K, Gao Y, Zhang J*, Qian S. Mechanistic study on complexation-induced spring and hover dissolution behavior of ibuprofen-nicotinamide cocrystal. Cryst Growth Des, 2018, 18: 7343-7355.
3. Qian S, Heng W, Wei Y, Zhang J*, Gao Y. Coamorphous lurasidone hydrochloride–saccharin with charge-assisted hydrogen bonding interaction shows improved physical stability and enhanced dissolution with pH-independent solubility behavior. Cryst Growth Des, 2015, 15: 2920–2928.
4. Ma K, Zhang Y, Kan H, Cheng L, Luo L, Su Q, Gao J, Gao Y, Zhang J*. Thermodynamic and kinetic investigation on the crucial factors affecting adefovir dipivoxil-saccharin cocrystallization. Pharm Res, 2014, 31: 1766-1778.
5. Wei Y, Li L, Xi Y, Qian S, Gao Y, Zhang J*. Sustained release and enhanced bioavailability of injectable scutellarin-loaded bovine serum albumin nanoparticles. Int J Pharm, 2014,476: 142-148.
6. Zhang J, Huang Y, Liu D, Gao Y, Qian S. Preparation of apigenin nanocrystals using supercritical antisolvent process for dissolution and bioavailability enhancement. Eur J Pharm Sci, 2013, 48: 740-747.
7. Gao Y, Liao J, Qi X, Zhang J*. Coamorphous repaglinide–saccharin with enhanced dissolution. Int J Pharm, 2013, 450: 290-295.
8. Zhang J, Gao Y, Qian S, Liu X, Zu H. Physicochemical and pharmacokinetic characterization of a spray-dried malotilate emulsion. Int J Pharm, 2011, 414(1-2):186-192.
9. Zhang J, Fu M, Zhang M, Xu L, Gao Y. Synthesis of oxidized glycerol monooleate-chitosan polymer and its hydrogel formation for sustained release of trimetazidine hydrochloride. Int J Pharm, 2014, 465: 32-41.
10. Gao Y, Gao J, Liu Z, Kan H, Zu H, Sun W, Zhang J*, Qian S. Coformer selection based on degradation pathway of drugs: a case study of adefovir dipivoxil-saccharin and adefovir dipivoxil-nicotinamide cocrystals. Int J Pharm, 2012, 438(1-2): 327-335.